TAL-Bitcrusher
Not supported anymore!

TAL-Bitcrusher is a common bitcrusher with some useful additions. There is a low- and highshelf EQ and a noise cross modulator included. Its maybe useful on drums, especially hats and for distorted leads.
Adjustable bitdepth (0..32 bit).
Adjustable sample rate divisor (up to / 512).
Noise cross modulator.
24 dB low- and high shelf filter.
10 presets for bass, leads and drums.
Low CPU.
Available in VST's and AU versions.
---
TAL-Flanger
Not supported anymore!


TAL-Flanger is a easy to tweak stereo flanger effect with its own special sound and some asymmetric analog like components in the feedback corner. Useful for a wide range of flanger effects from subtle to extreme.

Version History:
Compatibility fix for OSX Lion (01.07.2011).
---
TAL-USE
Not supported anymore!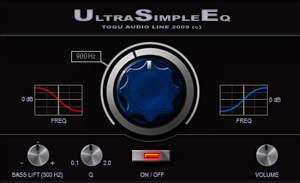 TAL-USE (Ultra Simple Eq) is especially designed after some tilt eq's from the 70's. This type of eq allows to adjust the audio material without changing the character of a sound to much.
Its an easy way, to make an audio signal sound darker or brighter with only one knob. The bass lift knob is a special addition that boosts or attenuates bass frequencies below 300Hz.
8 dB low / high shelf filter.
12 dB bass lift filter at 300 Hz.
Variable center frequency (100 - 10'000Hz).
Adjustable bandwidth (q: 0.1 to 2.0).
Volume knob.
On/Off switch.
Very easy to use.
Low CPU.
---
TAL-Tube
Not supported anymore!

TAL-Tube is a saturation plugin that have the characteristic of tubes and an additional amplifier mode. It's very suitable for adding higher harmonics and can give more excitement and analog character to digital sounds or drums. At extreme values it can also be used as a grungy distortion effect...
Amplifier mode.
Soft and hard mode (2 different tube types).
Dry/Wet knob.
Gain reduction display.
4x oversampled processing.
Some presets.
Low CPU



Donate if you want support TAL: