Description
TAL-Sampler is not just a sample player. It's a full featured analog modeled synthesizer with a sampler engine as sound source, including a powerful modulation matrix and a high quality self-oscillating 24/12/6 dB low pass filter.
Don't expect a 40GB piano sample library with samples for every velocity or something similar. The idea is to bring back the fun sampling was in the good old times with small samples, fast loading times and an intuitive work-flow to create your own sample presets without getting lost in the settings.
It's possible to choose between different digital analog converters (DAC's) to get the vintage sound of different hardware samplers inside your DAW. We don't make cheap bit crushing or decimation on the output signal. We really down-sample the sample to the desired sampling frequency, then process the data depending on the chosen DAC and up-sample it to the desired pitch. Most DAC modes offer a LEVEL slider. This feature allows the user to reduce the volume of the recorded sample and decreases the sample quality. Load your favorite high quality sample and make it sound vintage and noisy. The 24dB low pass filter will like it!
Following diagram shows the signal flow if you choose the DAC Emu II mode: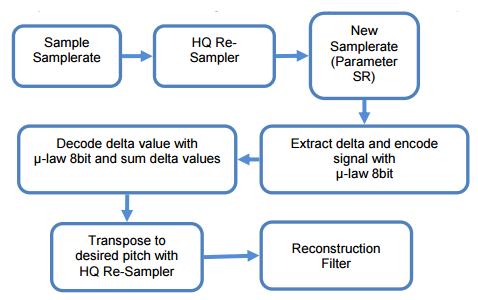 The plug-in has four layers an can play four samples simultaneous. There is also a simple SFZ import for samples that imports the mapping and sample paths, but the plug-in also contains an easy to use mapping editor.
TAL-Sampler is available in the VST, Audio Unit and AAX plug-in format. You can load and play your own samples in every common sample format (*.wav, *.aiff, *.aif, *.mp3, *.ogg, *.flac). Import samples with drag & drop from finder or explorer. There is also an intuitive sample browser that helps to find samples fast.
Some nice additions like a vintage real-time time stretcher and the possibility to modulate or automate the sample loop positions.
Features
Vintage DAC modes (Emu II, AM6070, S1000, Sample Hold, Linear, Clean).
Steep 96dB low-pass reconstruction filter (Emu II and AM6070 F).
Variable sample rate.
Powerful MOD-Matrix.
Four sample layers.
Three AHDSR envelopes with vintage Digital / RC mode.
Three LFO's (Triangle, Saw, Rectangle, Random, Noise).
High Quality effects (Reverb, EQ, Delay).
Self resonating zero feedback delay filter (24/12/6 dB LP, HP, BP, AP, Notch).
Wide range of audio formats supported (*.wav, *.aiff, *.aif, *.mp3, *.ogg, *.flac).
Scalable high resolution user interface.
The possibility to change font and background colour.
Fast sample and preset loading.
SFZ and SF2 sample import.
More than 100 presets available as download (on the right).
Demos
Tutorials:
Time-Stretch with TAL-Sampler:
Loops and modulated loops with TAL-Sampler:
Drag & drop tutorial:
History
Save wave preview options in audio file dialog (v 1.9.4)
Crash when open sample efitor and no mapping available fixed (v 1.9.4)
Mute groups in mapping editor added (v 1.9.3)
EMBED AUDIO fixes (v 1.9.2)
Convert all sub presets of a SF2 file to TAL-Sampler presets (v 1.9.1)
Shorter key stealing fade out (v 1.9.1)
Improved mapping editor (v 1.9.1)
EMBED AUDIO added: Experimental. Saves audio data within the sampler preset. Be carefully. Do not use this with big samples. Your hosts project file will contain the sample data when enabled. Useful when you have different working places and small samples. I needed this to switch between windows and OSX (v 1.9.1) beta - please do not use at the moment. we will fix this within the next updates
Drag & drop issue in mapping editor fixed (v. 1.9.0)
DC offset in new filter types that can lead to a click when start playing fixed (v 1.8.8)
It's possible to disable computer keyboard MIDI input with an option in the menu. It's required to reopen the UI after the change (v 1.8.7)
Possible crash when copy layer fixed (v 1.8.7)
LFO phase display value while changing parameter fixed (v 1.8.6)
Potential crash when loading presets fixed (v 1.8.6)
Unipolar switch for LFO's added (v 1.8.6)
New filter types added (LP, HP, 2, BP, Notch, AllPass) (v 1.8.5)
Wrong portamento rate for different sampling rates fixed (v 1.8.4)
Unstable pitch with linear DAC fixed (v 1.8.3)
SF2 file import added (v 1.8.2)
Missing sample start and end in file not found dialog fixed (v 1.8.2)
Improved waveform view (performance and colours) (v 1.8.1)
Fixes a crash when deleting the last mapping in the mapping editor (v 1.8.1)
Better UI performance for OSX VST (v. 1.8.0).
Configurable middle C octave. You will find the option in the menu. (v. 1.8.0).
Sliced sample has loop positions of slice start / end (v. 1.7.9).
Copy mapping feature to mapping dialog added (v. 1.7.8).
Fixed inaccurate waveform view in mapping dialog (v. 1.7.7).
Possible crash in waveform view fixed (v. 1.7.6).
AAX static linked for windows 7 and older (v. 1.7.6).
Stop playing when open UI fixed (v 1.7.5).
Possible crash when changing presets fixed (v 1.7.4).
Faster preset loading (v 1.7.4).
Fixes crash introduced by v 1.7.2 (v 1.7.3).
Dac Volume modulation fixed (v 1.7.2).
Remember last loaded SFZ for next button fixed (v 1.7.2).
DC offset in delay with feedback fixed (v 1.7.2).
Stereo Inverse does not work anymore fixed (v 1.7.2).
Import SFZ from the main menu while playing crash fixed (v 1.7.1).
Changing presets can lead to crash fixed (v 1.7.1).
Performance for 32 bit plugins on OSX improved (v 1.7.0).
Max loop size when loading a new sample and loop is not set already (v 1.7.0).
Filter noise with a lot resonance reduced (v 1.7.0).
Loop engine improved and possible clicks removed (v 1.7.0).
Ping-Pong loop mode added (v 1.7.0).
Global velocity switch added (v 1.7.0).
S1000 resampler mode improved -> volume reduced at lower frequencies (v 1.7.0).
Change timestretch density in realtime now possible (v 1.7.0).
Broken linear interpolation fixed (v 1.6.8).
S1000 DAC added (beta, sound can slightly change in the future). (v 1.6.7).
Drag and drop in layer overview from media bay border color stays fixed (v 1.6.7).
Stereo inverse setting in mapping editor not saved fixed (v 1.6.7).
Env OneShot mode for drums added (v 1.6.7).
One sample offset in loop issue fixed. (v 1.6.7).
Cubase Media Bay drag & drop support (v.1.6.6).
Multi file drag & drop from finder or explorer into the mapping keyboard view (v.1.6.6).
Copy mapping from another layer in mapping view added.
Multi layer SFZ import from menu. Imports the first four layers of an SFZ file (v.1.6.6).
We had to remove sample position and loop automation because of some unresolvable issues with some hosts (v 1.6.4)
Sample position automation also updates the mapping view (v1.6.3).
Sample and sample loop position parameters now exposed to host (v1.6.3).
MIDI Learn now also works for sample and loop start and end positions. It modifies all mappings inside a layer (v1.6.2).
14bit MIDI controller support for CC 1 - 31 added (v1.6.2).
Delay engine output noisy sound after changing delay time fixed (v 1.6.1).
In-Place preview improved (v 1.6.1).
Selected layer mapping in sync with mapping dialog (v 1.6.1).
Long sample filename overlaps SFZ load button fixed (v 1.6.1).
Loading sample when rom is loaded not work fixed (v 1.6.0)
Self oscillation / resonance issue with x64 version fixed (v 1.5.9)
AAX crash when loading presets while playing fixed (v 1.5.5).
DAC volume text missing, fixed (v 1.5.5).
In-Place audio preview added (v 1.5.5).
File filter bug fixed (v 1.5.5).
Sfz default path support added: <control>default_path=French Horn Solo Samples\ (v 1.5.5).
SFZ browser in layer view added (v 1.5.5).
New mapping dialog for faster mapping and better overview with direct file drag & drop to key (v 1.5.5).
High frequency peak in reverb fixed (v 1.5.5).
Mapping dialog MIDI learn low, root and high key can now be done at once when selecting all buttons.
Useful for drums (v 1.5.5).
Show playing position when play one key and the current selected mapping (v 1.5.5).
Wrong loop size fixed. Didn't play the last sample of the loop. Only notable with samples that have a high pitch (v1.53).
Possibility to change all crossover fade values of one layer with one knob (ALL option in the layer view) (v1.53).
Some optimizations (v1.53).
Crashes when moving loop position while playing fixed (v1.51).
No linked loop points in small wave view. Link mode in mapping view also links loop end to loop start (v1.51).
Keep loop points when load a different sample (v1.51).
Removed clicks when modulate loop / indtroduced by version v1.50 (v1.51).
Microtuning file name now shows up in the menu when file is loaded (v1.5.0).
Possible invalid values in delay filters kills output signal fixed (v1.5.0).
Change filename when file selected not possible in file save dialog fixed (v1.5.0).
User interface updated. Better readable fonts. Mapping dialog view improvements (v1.5.0).
Vertical waveform zoom in mapping dialog added (v1.5.0).
Issue with resampler modes and visible knobs fixed (v1.5.0).
m4a audio file support for OSX and windows when codec is available (v 1.4.7).
Improved linear interpolation (v 1.4.7).
Clean sampling mode added (v 1.4.7).
Disable transpose for sample in mapping dialog added (track button) (v 1.4.7).
SFZ end tag support added (v 1.4.7).
Remember "Play when selected" in sampler instance added (v 1.4.7).
Phase invert in mapping dialog added (v 1.4.7).
Inverted sample stereo fixed. There is now a Stereo Switch option in the mapping dialog (v 1.4.7).
Improved waveform display for stereo samples (v 1.4.7).
Service Control loading issue und reset when changing preset fixed (v1.4.6).
Improved mouse wheel zooming in mapping view (v1.4.5).
SFZ import with loop start 0 fixed (v1.4.5).
Channel aftertouch added for modulation source AT. Reads also poly aftertouch when available (v1.4.5).
View jumps to slice position when selecting a new slice in the mapping view (v1.4.5).
Play when selected added to the audio file browser (v1.4.5).
Resampler view issue should be fixed -> let us know if somewhere still have issues that it does not show the expected knobs (v1.4.5).
LFO phase setting added (v1.4.5).
Cancel directory scanning after 500 folders when choosing a too big preset folder (v.1.4.4).
SFZ offset to import and export added (v1.4.4).
Crash when setting preset location - introduced with version v1.4.2 fixed (v1.4.3).
Remember selected tab in session (v1.4.2).
Preset- and file-dialog updated (refresh added, restore directory tree in session) (v1.4.2).
Thread issue and possible crash when select mapping with midi fixed (v1.4.2).
Improved UI updating with timer (v.1.4.2).
Improved colours with grey values (v1.4.2).
Improved mod-matrix assignment with left and right mouse click (v1.4.2).
Load when select option added in preset browser (v1.4.1).
Open system file browser from within the wav and preset browser (v1.4.1)
Show not assigned keys in global piano roll (v1.4.1).
More contrast for selected text (v1.4.1).
Prevent combobox stealing enter key (v1.4.1).
Shift + mouse drag snaps mod matrix amount to integer values (v1.4.0).
Mod matrix source UI update issue fixed (v1.4.0).
Remember save directory and add to folder favorites (v1.4.0).
Tune file directory to favorites added (v1.4.0).
Preset load button in preset browser added (loads presets without leaving preset browser) (v1.4.0).
Scrollbar contrast in mapping view improved (v1.4.0).
-1 for sample parameters in talsmpl preset file allowed for sample length and loop length (v1.4.0).
Remember tun file path (v1.4.0).
Open preset browser in directory of current preset if possible (v1.4.0).
Possible file filter crash in browser fixed (v1.4.0).
More contrast to UI file browser and other components (v1.4.0).
MIDI map button on mapping view added. Select mapping through MIDI (v1.4.0).
Parameter updating when create UI improved (v1.4.0).
Mod matrix amount can now be automated (v1.4.0).
Show real mod matrix amount in value display (v1.4.0).
Click at scrollbar in mapping view does not select other splice (v1.4.0).
UI keyboard does not steal keys anymore (v1.4.0).
Show presets in menu for fast preset browsing (v1.4.0).
Don't show default parameters (maybe does not work in all hosts) (v1.4.0).
c3 is the middle key (v1.4.0).
Slice button stays enabled when slicing audio (v1.4.0).
Removed shadow from mapping editor wave view (v1.4.0).
Loop start now moves loop end too with constant loop length (v1.4.0).
Snap mode also snaps to zero and sample end (v1.4.0).

Missing sample rate conversion in linear mode fixed

(v 1.3.9).

Loop click when enter loop fixed

(v 1.3.9).

PAN left / right switched. Old presets load right

(v 1.3.9).

Modulation matrix calculation before note-on for triggered modulations

(v 1.3.9).

SFZ loop point import and export support (v 1.3.9).

OSX SFZ import compatibility with windows paths fixed (v 1.3.9).

Microtuning *.tun file import added (v 1.3.8).
Possible crash with OSX fixed

(v 1.3.7).
CPU normalisation issue fixed

(v 1.3.7).
Samplerate parameter affects linear mode pitch fixed

(v 1.3.7).
Clipping with AM6070 mode while loading a normized audio file fixed

(v 1.3.7).
Reverse loop issue fixed

(v 1.3.7).
OSX installer AU / VST fixed

(v 1.3.7).
Fixes a feedback issue in version 1.3.6 (v. 1.3.7)

.
Download
1.9.4
BUY NOW
Requirements:
Windows: Windows XP or higher (32 / 64 bit)
OSX: OSX 10.7 or higher (32 / 64 bit).
AAX: Pro Tools 10.3.6 or higher
Demo restrictions:
The plug-in produces a rising white noise sound every minute.
RESEND SERIAL