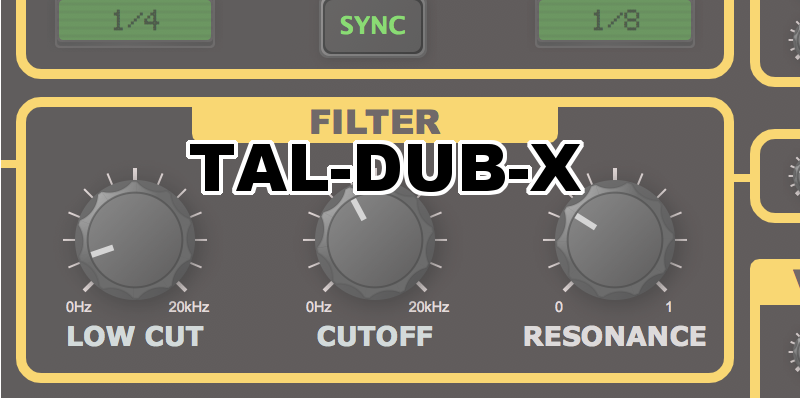 Description
TAL-Dub-X is a remake of our popular original freeware TAL-Dub plug-in with a lot of additional features and AAX, OSX 64bit support. TAL-Dub-X is no emulation of a specific hardware delay effect and it has its own special sound. Don't expect one of the very clean digital delays. An important part of the delay is a special saturation stage and a high quality low pass filter with resonance setting. This makes the delay suitable for endless delay effects. It's possible to use MIDI automation to control the parameters.
Features
Drive knob controls saturation.
High quality resonance filter..
High pass filter..
Delay time up to 2 seconds.
Host tempo sync.
TAP button.
Feedback and POST filter routing.
PING PONG mode.
Stereo triangle LFO modulation for delay time and resonance filter.
MIDI LEARN for easy automation.
Useful presets included.
Accurate meter.
Version History
Possible crash fixed (v 1.2.2)
TAL-Dub-I and TAL-Dub-II modes added (v 1.2.0)
Backward compatibility to OSX 10.7, 10.8, 10.9 restored (v 1.1.1)
Delay time can not be changed in hosts that report 0 Bpm fixed (v 1.0.3)
Possible AAX crash fixed (v 1.0.2)
User manual updated.
Define custom presets path in config file (v 1.0.1)
Bypass button added (v 1.0.1)
Sync delay time names fixed (v 1.0.1)
Low cut and cutoff UI knob orders changed (v 1.0.0)
More visible button state (v 1.0.0)
Interpolation changed (v 0.8.3)
Possible crash fixed (v 0.8.2)
Possible audio drop out with Ping Pong mode and long delay times (v 0.8.1)
Release (v 0.8.0)
Download
1.2.2
Requirements:
Windows: Windows XP or higher (32 / 64 bit)
OSX: OSX 10.7 or higher (32 / 64 bit).
AAX: Pro Tools 10.3.6 or higher
Demo restrictions:
The plug-in fades in a white noise sound every minute.
RESEND SERIAL

Download user manual