TAL-Reverb-2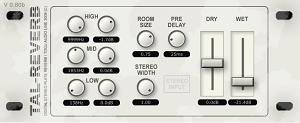 TAL Reverb-II is a super diffuse and lush reverb effect with a fast build up time. Ideal for ambient reverb sounds.
Download v2.0.0
Requirements:
Windows: Windows XP or higher (32 / 64 bit)
OSX: OSX 10.7 or higher (32 / 64 bit).
AAX: Pro Tools 10.3.6 or higher
old downloads:
---
TAL-Reverb-3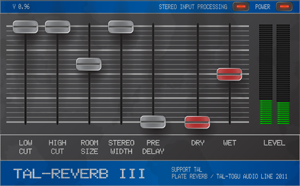 TAL-Reverb-III is an easy to use stereo reverb plugin. It's popular because it's very very diffuse sound ;) It has an additional signal feedback path.
Download v2.0.0
Requirements:
Windows: Windows XP or higher (32 / 64 bit)
OSX: OSX 10.7 or higher (32 / 64 bit).
AAX: Pro Tools 10.3.6 or higher
old downloads:

Please donate if you want support TAL:
Reverb-1
http://kunz.corrupt.ch/downloads/plugins/TAL-Reverb.zip
http://kunz.corrupt.ch/downloads/plugins/TAL-Reverb.vst.zip
http://kunz.corrupt.ch/downloads/plugins/TAL-Reverb.component.zip